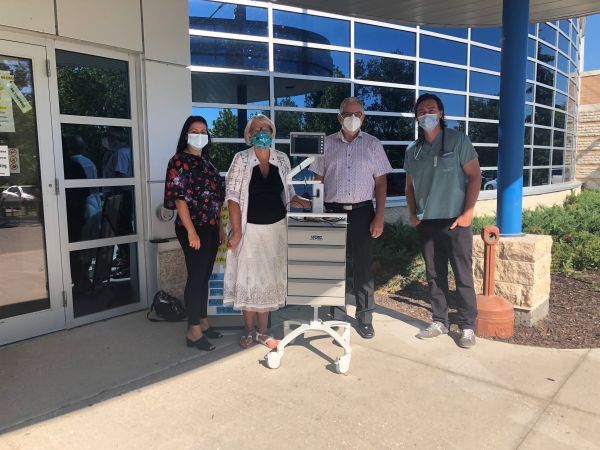 Johnson Memorial Hospital in Gimli has received a generous donation of a video laryngoscope from a Westshore Community Foundation grant, a Gimli District Health Auxiliary grant and a donation from Interlake Eastern Health Foundation.
Tim Arnason, president of Westshore Community Foundation says this year, the foundation has joined forces with other organizations which has become the standard of practice in the current COVID climate.
"We identified a need to depart somewhat from our normal granting process. Our Board felt that a portion of our available community and designated funds could be set aside for specific, proactive, COVID-19 related issues," Arnason says.
A video laryngoscope is an extremely valuable resource for care providers. This piece of equipment will lead to faster and safer intubations for those who are acutely ill. In addition, it helps protect care providers in the room which is key during the COVID-19 pandemic. Total cost of the video laryngoscope is $18,850.
Ruby Tretiak, president of Gimli District Health Auxiliary, is delighted to partner with Westshore Community Foundation and Interlake Eastern Health Foundation to purchase the video laryngoscope.
"Every spring we ask staff what is needed to improve patient care—we call it the Wish List. Dr. Fulmore requested a video laryngoscope. The membership approved contributing to this important piece of equipment as part of the "wishes" that were granted," Tretiak says.
Dr. Jonah Fulmore, a physician from Gimli Community Health Centre adds what an impact the donation has on the community.
"My colleagues and I are extremely grateful to the generosity shown by the Westshore Community Foundation, Gimli District Health Auxiliary and the Interlake Eastern Health Foundation. This donation will help serve the community for years to come and will save lives. We sincerely thank all involved in providing us the resources required to provide our community with exceptional medical care," Dr. Fulmore said.
Executive director of the Interlake Eastern Health Foundation Pamela McCallum highlights how working with local foundation's benefits the communities we live and work in.
"Our Foundation's mandate is often strengthened by partnering with the right community organizations during times of need. We are thrilled that the Westshore Community Foundation and Gimli District Health Auxiliary have agreed to partner with us on this important initiative to make it a reality."
Interlake Eastern Foundation's mission is to raise funds that support health care in the Interlake-Eastern health region. For more information visit www.iehf.ca or contact Pamela McCallum, executive director at (204) 785-7044.
Photo L-R: Pamela McCallum executive director Interlake Eastern Health Foundation, Ruby Tretiak Gimli District Health Auxiliary, Tim Arnason Westshore Community Foundation, and Dr. Jonah Fulmore Gimli Physician.