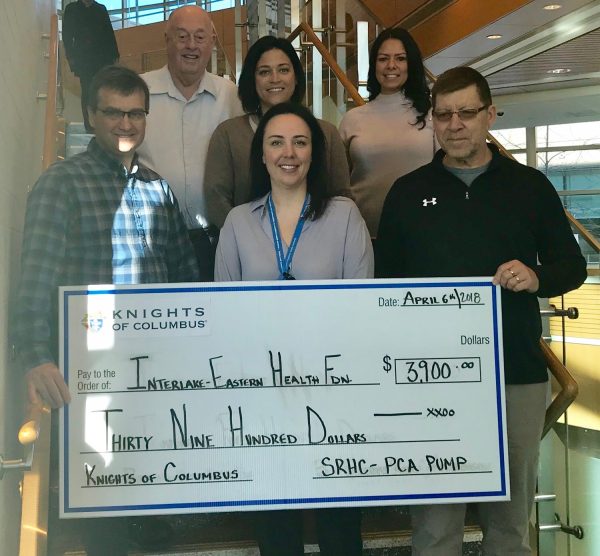 Knights of Columbus Donate to Interlake-Eastern Health Foundation
Interlake-Eastern Health Foundation (IEHF) receives generous donation from the Knights of Columbus to help improve patient care at Selkirk Regional Health Centre
April 6th 2018 – Today, the Interlake-Eastern Health Foundation and staff at the Selkirk Regional Health Centre (SRHC) celebrated the generous donation of $3,900 from the Knights of Columbus for the purchase of a patient controlled analgesia pump. A patient-controlled analgesia pump allows patients to self-administer their intravenous (IV) pain medicine as needed, most often after surgery.
Surgery unit staff members in particular welcome this new piece of equipment because it empowers patients to have some degree of control over their pain. This equipment allows immediate and effective pain relief post-operation, allows for improved quality of recovery and care, and creates a more positive experience during a patient's hospital stay.
Giving back to the community was a primary goal of this donation according to Mike Parkes, spokesperson for the Knights of Columbus.
"The funds raised through our many fundraising activities are returned with gratitude back to our community to support the programs and activities that serve the needs of our local community," Parkes said.
Interlake-Eastern Health Foundation executive director, Pamela McCallum acknowledged the benefit of the donation for patients and staff.
"We are so grateful to the Knights for their generosity. Adding this pump to our surgery unit will not only benefit our patients' stay but will provide a positive impact on staff as well who want to ensure their patients are comfortable while under our care,' said McCallum.
The pump has been ordered will be on the unit working in the next few weeks.
Back row L-R: Lorne Nicol (Knights of Columbus) and Pamela McCallum (Executive Director, Interlake Eastern Health Foundation)
Middle: Rachel Mamott (Clinical Team Manager Surgery, Family Birthing, Infection Control, and Acute Care)
Front L-R: Daren Reiter (Knights of Columbus), Kate Hodgson (Regional Director Acute Care), and Mike Parkes (Knights of Columbus)