Donated clinic chair makes treatment easier for Gimli home care patients and staff!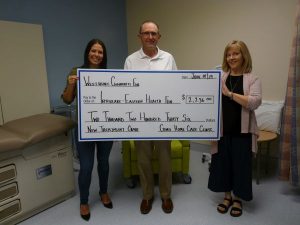 Thanks to a $2,236 donation from the Westshore Community Foundation, Gimli's home care clinic was able to purchase a new clinic chair that makes treatment easier for both the patient and staff.
In January 2018, Gimli Community Health Centre opened its home care clinic for home care clients from Gimli and surrounding areas, who are mobile or able to be driven by family, book regular appointments with this clinic rather than waiting for a nurse to visit them at home.
Pamela McCallum, executive director of the Interlake-Eastern Health Foundation says the new chair adds benefits for both patients and staff.
"Due to mobility issues, many of home are clients find it challenging to hop onto and off of an exam bench. This clinic chair allows clients to easily and comfortably be repositioned from sitting to lying down. The chair's ease of entry and exit has enhanced client safety by reducing the need for step stools and it also allows nurses to easily maintain a more comfortable body position during what can often be a lengthy dressing change."
Tristin Tergesen, chair of the Westshore Community Foundation, spoke to why the foundation felt it was important to continue supporting Gimli's home care clinic.
"The Westshore Community Foundation is happy to provide a $2,236.00 grant towards the purchase of a new clinic chair for the Gimli home care clinic. This contribution to the health of our community is consistent with our mandate of 'Building a Lasting Legacy.'"
McCallum also adds how nice it is to see community foundations come together.
"Working with the Westshore Community Foundation for the second year in a row shows the positive impact of community groups working together – we are the essence of what community stands for; we take care of each other."
Last year the Westshore Community Foundation purchased a $1,700 exam table for the clinic.
This home care clinic provides additional support to local and surrounding home care clients requiring regular health care from home care nursing staff. Other home care clinics are operating in the communities of Beausejour, Teulon, Oakbank, Pine Falls, Selkirk and Stonewall.
Photo from L to R: Pamela McCallum (executive director, Interlake-Eastern Health Foundation), Dave Cain (Board member, Interlake-Eastern Health Foundation) and Tristin Tergesen (chair, Westshore Community Foundation).