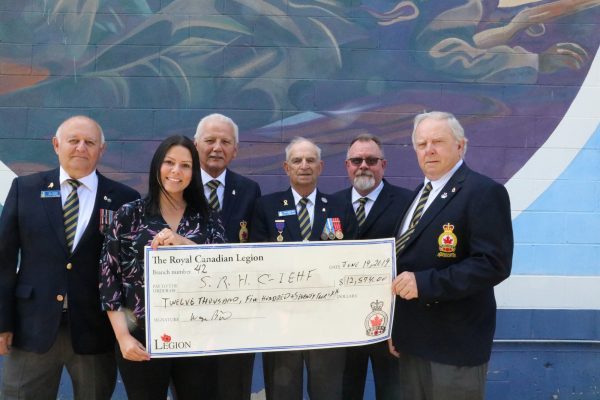 Royal Canadian Legion #42 supports patient care at Selkirk Regional Health Centre while honouring Veterans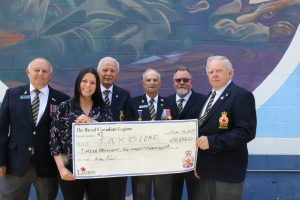 Selkirk Legion's recent donation of $12,574.00 will be used to purchase two Vital Signs blood pressure monitors and two pressure reduction mattresses. The donation, courtesy of the Legion's Poppy Fund will result in some visible differences for patients and staff at the Selkirk Regional Health Centre.
Interlake-Eastern Health Foundation executive director, Pamela McCallum, says the additional equipment will impact patients positively.
"The addition of the pressure reduction mattresses for the emergency department will aid in the comfort of patients receiving care. The addition of the new Vital Sign monitors will increase efficiency when caring for multiple patients at one time.'
Poppy Fund Officer Wayne Bird says the Selkirk Legion Branch 42 is very well supported by the local community in the City of Selkirk and surrounding areas.
"The Poppy Fund primarily serves the necessities of veterans and their dependents, as well as approved services within our community. This includes donations to the Selkirk Regional Health Centre for medical services. In doing so, the community at large benefits greatly from the Poppy Fund. With your continued assistance we will carry on the tradition to honour our pledge to our veterans and those who need our help."
Pamela adds "The Royal Canadian Legion is Canada's largest Veteran support and community service organization, helping Veterans, members of the Canadian Armed Forces, RCMP and their families get the care and support they deserve. It's truly amazing to receive support for our hospital from such a resilient group of people. We thank them not only for their service but for this generous donation that will be appreciated by patients and staff who deliver health- care services here."
Our mission is to raise funds that support health care in the Interlake-Eastern health region. For more information visit www.iehf.ca or contact Pamela McCallum, executive director of the Interlake-Eastern Health Foundation at (204) 785-7044.
Photo courtesy of the Selkirk Record L-R: 2ND Vice President Neil Zebinski, Pamela McCallum, executive director of the Interlake-Eastern Health Foundation, Poppy Officer Wayne Bird, Executive Member Andy Anderson, 1ST Vice President Lance Glover and President John Austin.