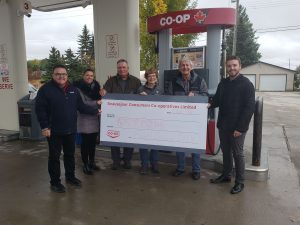 On October 16, 2019, Co-Op donated $1000 from their Fuel Good Day 2019 to the Interlake-Eastern Health Foundation for the Beausejour TV Fund. The TV fund at Beausejour Hospital ensures free TV services for inpatients at the hospital.
Co-op donated a minimum of five cents per litre of fuel purchased to everyone who filled their tank on Sept. 17, 2019, at a Co-op Gas Bar in Western Canada. Donations benefited local schools, community centres, libraries, hospitals, food banks and more.
Interlake Eastern Health Foundation executive director Pamela McCallum, says Co-op chooses new programs that they're going to support each year.
"We were lucky enough to be chosen by Co-op this year as a recipient of funds from Fuel Day," says McCallum. "We are so grateful to be able to provide free TV services to our patients in Beausejour and this generous donation will allow us to keep the program active."
Co-op's 2019 Fuel Good Day raised more than $685,000 for more than 180 local charities and non-profit organizations across Western Canada. Since launching in 2017, the program has raised nearly $1.9 million that is invested back into communities across Canada.
Interlake Eastern Health Foundation's mission is to raise funds that support health care in the Interlake-Eastern health region. For more information visit www.iehf.ca or contact Pamela McCallum, executive director of the Interlake-Eastern Health Foundation at (204) 785-7044.
Photo L-R: Barry (gas bar manager), Pamela (Interlake Eastern Health Foundation executive director), Len (community hall board president), Lynette (community hall board member), Richard (Beausejour Hospital TV Fund board president), and Harrison (Co-op marketing coordinator).