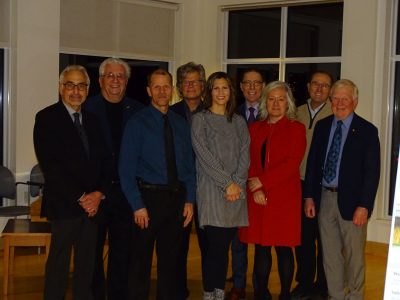 Foundation celebrates donors at appreciation event announces fundraising campaign for new clinical teaching unit!
It has been quite a year for the Interlake Eastern Health Foundation, Legacy for Life. Close to $370,000 raised, and numerous high priority equipment purchases including double electric beds and mattresses for palliative care, a scale for oncology, ultrasound machines for Beausejour, Stonewall and Eriksdale, wheelchairs, walkers, vital signs monitors, beds, chairs, and a number of items for the family birthing unit!
The McLeary family set up two endowment funds this year with the Foundation. Bob and Wendy McLeary decided to establish a permanent fund as a legacy for their parents Jack & Astrid McLeary and Norman & Bette Dalman.
The McLeary's wish is to have donations invested in perpetuity with income from the fund supporting the purchase of high priority equipment for Selkirk Regional Health Centre. Wendy says the fund means a lot to their family.
"As proud citizens of Selkirk we are pleased to be able to create two endowment funds that will honour the memory of our parents, leave a legacy for our family and help to enrich the lives of the people within our community."
Also announced at the Foundation's AGM was the latest capital fundraising campaign to develop the region's first regional Clinical Teaching Unit which will contribute to recruiting physicians to Interlake-Eastern region. The clinical teaching unit will be located in a primary care centre on the Selkirk Regional Health Centre's campus with the capacity to provide outreach services, through medical residents, to outlying communities. Medical students' rural experiences have been shown to be highly influential in recruiting physicians to practice in rural communities.  The clinical teaching unit program will eventually provide training for up to eight residency practitioners annually in communities throughout the region.
Dr. Ian Alexander has a family practice in Selkirk, Manitoba at Selkirk Medical Associates and heads the region's medical residency program. Dr. Alexander says the clinical teaching unit will provide students the opportunity to put down roots in the Interlake-Eastern Regional Health Authority, in hopes they will eventually set up practice here – an opportunity he didn't have when he completed his residency.
"The clinical teaching unit will offer primary care residency opportunities in IERHA communities and become a regional hub for establishing family physician practices throughout the region. This is where the existing regional residency program will be integrated along with an inter-professional primary care practice team that will all be co-located making for better patient care."
Board chair DJ Sigmundson says the partnerships established with community groups is one reason the foundation was so successful.
"Much of our fundraising success of the past year has come from our many partners throughout Interlake-Eastern. Our region is blessed to have many long serving dedicated organizations that have focused their energy on raising funds for much needed medical equipment in their community.'
Foundation executive director Pamela McCallum said the Foundation is thankful for the support they receive.
"Each and every generous gift we receive stays in our region to support patient care. Thank you to all of our donors and community partners, we are so grateful for your support."
For more information, or to donate to the Foundation, including the clinical teaching unit fundraising campaign, contact Pamela McCallum at pmccallum@ierha.ca or visit their website at http://www.iehf.ca/. For more examples of our regional resident's generosity, please follow the 'Interlake Eastern Health Foundation' on Facebook.
IEHF Board of Directors at the November 28, 2019 Annual General Meeting. L-R: Ted Lewis, Bill Bodman, Glen West, DJ Sigmundson, Melissa Fuerst, Dr. Dan Lindsay, Tracey Epp, Dave Cain, and Ernest Stefanson.
Missing: Brent Wynnyk, Cynthia Ostapyk, Karen Kost and Kelly Cook.