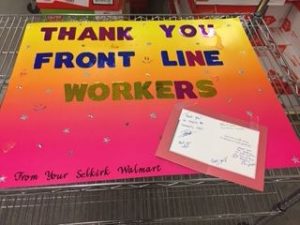 Interlake Eastern Health Foundation (IEHF) is overwhelmed by all the support from our communities!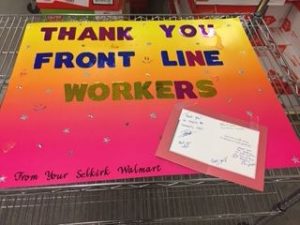 The global COVID-19 pandemic is an unprecedented moment in our lives and is impacting every one of us every day. During this challenging time and, as always, the safety of our patients, staff, and communities is our top priority.
We extend our heartfelt thank you to everyone on the list below for their most thoughtful donations of personal protective equipment, supplies, and food! These remarkable donations have been distributed across our region to front line staff who are working tirelessly to provide excellent care and keep everyone safe.
A&W
Acure Safety
Alberta Stoneham
Alfred Hartmann
All Seasons Catering
Amber Neufeld
Annette Brown
Barb Kaminski
Bev & Don Lewicki
Bio Steel
Bioscience Association of Manitoba
Boston Pizza
Brenda Wedlake
Brightstone Colony
Caley Brown Photography
Canada Helps
Canadian Tire
CB Fencing
Chicken Chef
CNL
Colleen Hogue
Community of Eriksdale
Connie Fingland
Coop
Cooperators Insurance
Dairy Queen
Deb McCrea
Debbie Majeau
Dennis Heinemann
Domino's Pizza
Donna Brandt
Doreen Petersen
Dr. Scholls
Evelyn Eyolfson
Evelyn G
Franks Pizza
Gateway Group
Gerdau
Gimli District Health Auxiliary
Gimli Ford
Gimli Snowmobile
Gore Mutual
Heather Blue
Heather Hearn
Hulda Larson
Irene Armashaw
Jamie Clayton
Jennifer Hearn
Kathleen Reese
Keystone Colony
Lakeshore School Division
Laurie Torgerson
Lesley Feeleus
Lillian Halldorson
Linda Fortin
Lisa Novakowski
Lisgar Lodge #2
Lord Selkirk School Division
Loretta Shaw
Manitoba Pork
Marion Olafson
McDonalds
Minor Hockey Association
Mr. Frank Chen
Nedco Rexel Group
No Frills Selkirk
Pizza Den
Prairie Dog Central Railway
Riverboat
Riverfront Convenience
Roxi's Uptown Café
Safeway Selkirk
Sandra Hogue
Sandy Heroux
Selkirk Golf Course
Selkirk Steelers
Shelley D's Restaurant
Snak Shak
Sonny's Chicken House
South Beach Casino
Steeltown Ford
Stonewall Pharmacy
Stonewall Quarry Days
Stony Mountain SW Masonic Lodge No. 12
Sukhothai Restaurant
Susan Wilkinson
The 'Avon' Lady
The Roberecki Family
Thor's Meats
Tim Hortons
Tim Hortons Camp Whiteshell
Twylla Gordon
Upper Crust Bakery
Walmart
Wandis Day
Westshore Community Foundation
Wilma Kemball
Winnipeg Fighting COVID
Yvonne Groff
We will update this list weekly as donations continue to come in. We will also publish thank yous to our donors every Thursday on the Foundation and IERHA's Facebook pages.
The Foundation could not do what it does without the generous support from people like you. Thank you for helping us provide the best possible care to patients and staff in our region. For more information or to make a donation, please visit www.iehf.ca or contact Pamela McCallum, executive director of the Interlake Eastern Health Foundation at (204) 785-7044.
Photo: Poster from management and staff at Walmart.