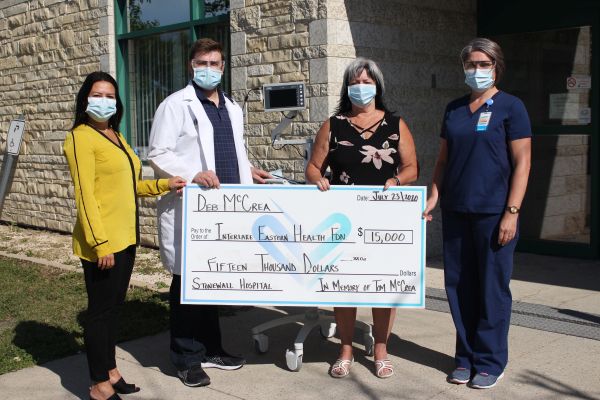 Generous donor partners with the Interlake Eastern Health Foundation for substantial purchase at the Stonewall Hospital!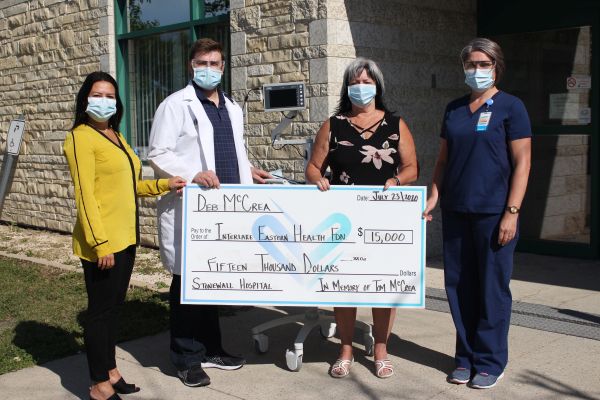 The Stonewall Hospital has received a generous donation from Deb McCrea (Cripps-Safiniuk), a community member who lost her husband Tom in 2019 to Idiopathic pulmonary fibrosis (IPF), a condition where lungs lose their ability to utilize oxygen necessary for the body's organs to survive.
Deb explains why she wanted to donate during a pandemic.
"Because of COVID-19's relation to the lungs and Tom's disease being similar, he would have wanted to contribute to the treating of the disease," says McCrea. "Our contribution of $15,000 towards the purchase of a much needed video laryngoscope for the Stonewall hospital is being given to a loving and caring community in the name of Tom McCrea."
Tom was born in August 1953 in Roblin, MB, and later received his Bachelor of Science from the University of Manitoba. After school he returned to the family farm and began a fertilizer company called Shangrabrea Soil Services, followed up with a shielded sprayer company Ag Shield Manufacturing in Benito, MB, which he owned and operated 35 years until the spring of 2018. IPF is a terminal disease with the only chance of survival being a lung transplant.
A video laryngoscope is an extremely valuable resource for care providers. This piece of equipment will lead to faster and safer intubations for those who are acutely ill. In addition, it helps protect the care providers in the room which is key during the COVID-19 pandemic. The total cost of the video laryngoscope is $18,850.
Dr. Myron Thiessen, vice president medical services and chief medical officer for Interlake-Eastern Regional Health Authority thanks the community for being involved in the enhancement of the health care available for residents of the community.
"A laryngoscope is used in support of endotracheal intubation where care provides place a tube in a person's airway to help them breath when they are having difficulty.  A physician hopes they don't have to use it because it means the situation is critical, but having a laryngoscope benefits the patient as it enhances the reliability of the work being done by the physician – we are very grateful for this donation and its demonstration to physicians that their work is appreciated," says Dr. Thiessen.
Executive director of Interlake Eastern Health Foundation, Pamela McCallum, worked closely with Deb to find a meaningful way to memorialize her husband.
"A donation of this magnitude will make a tremendous difference in our ability to care for our patients, especially during the COVID-19 pandemic," says McCallum. "In discussions with Deb, both she and Tom were duly impressed and appreciative of the care Tom received in Stonewall. We thank Deb for this gift in Tom's memory that will aid frontline staff who are working tirelessly to provide excellent care and keep everyone safe."
Interlake Eastern Foundation's mission is to raise funds that support health care in the Interlake-Eastern health region. For more information visit www.iehf.ca or contact Pamela McCallum, executive director at (204) 785-7044.
Photo by Sydney Lockhart, Stonewall Teulon Tribune L-R: Pamela McCallum executive director Interlake Eastern Health Foundation, Dr. Wayne Hicks Stonewall & District Health Centre, Deb McCrea (donor), and Patrice Lee clinical team manager Stonewall & District Health Centre.