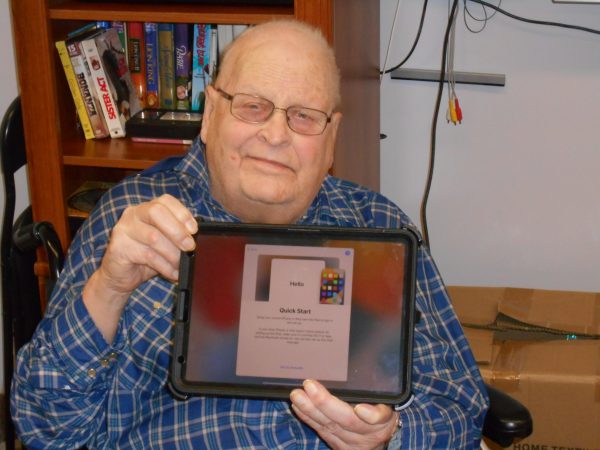 Recently, the Government of Canada's Healthy Communities Initiative granted the Interlake Eastern Health Foundation $11,000 for the purchase of nine iPads and cases for personal care homes in Oakbank, Lundar, Pine Falls, Teulon, Beausejour and Lac du Bonnet.
The spread of COVID-19 led to rapid and dramatic changes in day-to-day life, and personal care homes were no exception. While some might welcome social distancing during the crisis, for those in care, not having family and friends visit can be isolating and potentially have adverse effects on health.
Lori Martin, regional recreation manager said that visitor restrictions during the pandemic were hard on residents, families and friends.
"Thank you to the Government of Canada's Healthy Communities Initiative for funding iPads for our sites. It's been hard on families and friends with visitor restrictions in place but being able to see each other virtually through FaceTime has helped tremendously to lower the levels of isolation and loneliness. These iPads will help us to further facilitate keeping residents and their families connected," says Martin.
Research shows that family involvement in the lives of seniors in care can have positive effects on their cognitive and behavioural health. This meant personal care homes had to update their communication techniques in order to keep residents happy and health during the pandemic. Adding IPAD's to all personal care homes in the region ensured that residents were able to virtually visit with their family and friends.
Interlake Eastern Health Foundation executive director, Pamela McCallum, is thankful for this grant and appreciates the positive impact it will have on community members across the region.
"Obtaining this grant was very exciting for our region because we know the impacts of isolation on our residents. The iPads have been received and distributed and we have heard nothing but amazing stories about their impact on residents and families in our region. We are so grateful for the Government of Canada's Healthy Communities Initiative grant," says McCallum.
Interlake Eastern Health Foundation's mission is to raise funds that support health care in the Interlake-Eastern health region. For more information visit www.iehf.ca or contact Pamela McCallum, executive director of the Interlake Eastern Health Foundation at (204) 785-7044.
Photo: Lac du Bonnet resident Ron Lindgren shows off the facilities' new iPad!