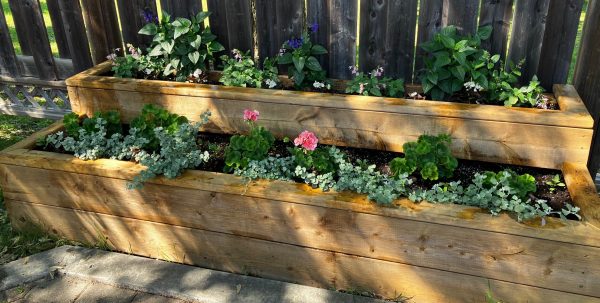 Patient and Staff Smiles Have Bloomed in Beausejour!
Community members Wendy MacLean, (volunteer gardener) and Vince Reidy (Eastman Men's Shed group) donated flowers and planter boxes to the Beausejour Hospital courtyard to bring some much needed colour and healing to the area.
Wendy MacLean says her family members along with other community residents have spent time in the hospital and received excellent care so she decided it would be a nice idea to donate her time and money to installing flowers.
"We now know that most human beings find being in nature restorative. Various research studies show that having what are now called "healing or therapeutic gardens" in healthcare settings can reduce pain and stress and, therefore, boost your immune system in ways that allow your own body and other treatments to help you heal. Studies show even simply gazing at a garden can help," says MacLean.
Vince Reidy is grateful to the dedicated staff at the hospital that work endlessly every day to make the community better.
"It is our Eastman Men's Shed groups pleasure, in cooperation with the local Guardian Pharmacy, to craft a better community everyday through the Eastman Trading Post. We hope the flower box brings a ray of sunshine on a daily basis," says Reidy.
Doug Mackie founded the first Canadian shed in 2011 in Winnipeg. Doug recognized that many men in his community had both time on their hands and a tendency to suffer from isolation, loneliness, and depression. This was especially true after they retired as many men tie big parts of their identities to their careers. Since starting the shed groups in Manitoba, Doug has helped men come together, stay productive, and contribute to the community—all of which are keys to good overall health.
"This space at the Beausejour Hospital is easily accessible by patients and staff, and is the ideal place to provide some natural beauty by including green vegetation and a variety of flowering plants. Having the planter that Eastman Men's Shed group built will help to provide an easily visible display of many plants at eye level.  When we installed the planter, the response from patients and family members was heart-warming," continues MacLean.
Pamela McCallum, executive director of the Interlake Eastern Health Foundation (IEHF) says this lovely donation has brought so much joy during a tough time.
"Our communities and staff have had a difficult time during the pandemic; this lovely gesture gives staff and patients hope and reminds them that they are appreciated and loved. We are so grateful for your kindness," says McCallum.
For more information on IEHF and how it benefits the region's patients and residents or to make a donation, please visit www.iehf.ca or contact Pamela McCallum directly at pmccallum@ierha.ca.