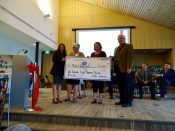 $5 Club Raises $1,800 for Nova House!
On June 28th Interlake-Eastern Health Foundation Board of Directors Cyndi Typliski and Bill Bodman along with executive director Pamela McCallum presented a cheque for $1,800 to the staff at Nova House from the $5 Club during the official grand opening of the new facility.
Nova House provides emergency refuge for women and children dealing with domestic violence. Many years of planning and fundraising were put into the new building
The new building cost close to $3 million to build and Nova House was able to raise $1.3 million. The rest of the funds came through donations from about 150 foundations, organizations, corporate funders and private donors.
Thank you to Renee Morrison, the $5 Club member who recommended Nova House for funding and thank you $5 Club
From left to right: Pamela McCallum (Interlake-Eastern Health Foundation), Anna Pazdzierski (Nova House), Cyndi Typliski (Interlake-Eastern Health Foundation), and Bill Bodman (Interlake-Eastern Health Foundation).