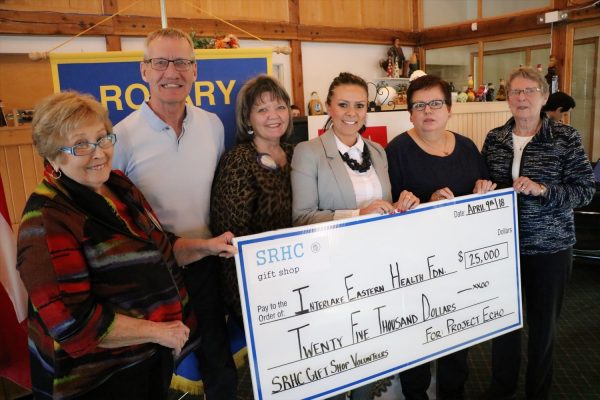 SRHC Gift Shop Volunteers donate $25,000 to Project Echo!
April 9, 2018 –Interlake-Eastern Health Foundation, in conjunction with the Rotary Club of Selkirk, recently celebrated the donation of $25,000 in support of "Project Echo."
Betty Milkowski of the gift shop in SRHC notes that their donation is rooted in a long history in community support to the hospital.
"The Ladies Auxiliary has been in operation since the hospital was located on Eveline Street. Our goal has always been to provide extra funds for the purchase of additional equipment or the replacement of equipment that has been identified by the hospital staff with the comfort of patients in mind," Milkowski said.
Pamela McCallum, executive director of the Interlake-Eastern Health Foundation, said the Project Echo campaign was started by the Rotary Club of Selkirk has been strong.
"It's truly remarkable to see this amount of funding come from volunteers in our community. Thank you to the ladies of the SRHC gift shop for their phenomenal efforts" said McCallum.
Project Echo will allow SHRC to purchase echocardiography technology, a painless test that uses sound waves to create moving pictures of the heart. This imagery shows the size and shape of a patient's heart as well as the functioning of the heart's chambers and valves. The addition of this service in Interlake-Eastern will lessen wait times and reduce the need for travel.
At a dinner celebrating these generous donations yesterday evening, Gail Halliwell, of the Selkirk Rotary Club, expressed gratitude to the SRCH gift shop volunteers.
"Selkirk Rotarians are once again impressed with the generousity of our community. The Interlake-Eastern Health Foundation has given Project Echo a significant boost with their generous donations." Halliwell said.
The SRHC gift shop donation by is one of the largest to date.
"The auxiliary/gift  shop donation has really blown us away! Their donation of $25,000 is the single largest donation to Project Echo aside from that of Selkirk Rotary. The Gift Shop is a volunteer organization that has been making a difference everyday to hospital visitors–and now their generousity will be felt by patients who need echocardiography. Rotarians say "bravo"!"
Photo L-R: Jean Oliver, Lee Hanson, and Gayle Halliwell from the Rotary Club of Selkirk, Pamela McCallum, Executive Director, Interlake-Eastern Health Foundation, Pat Pennington (SRHC gift shop volunteer), and Betty Milkowski (SRHC gift shop volunteer)