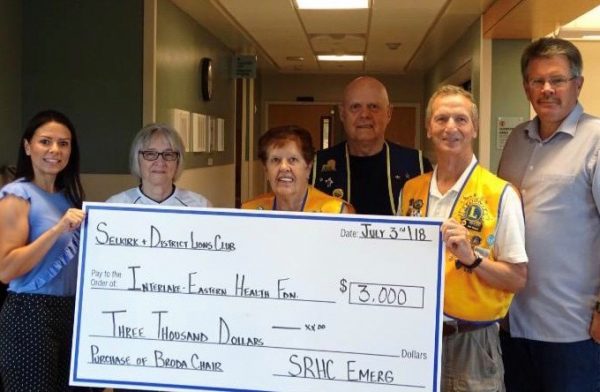 Selkirk & District Lion's Club makes big donation to health centre emergency room!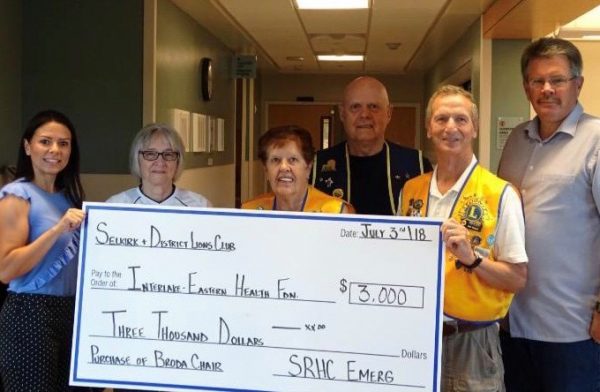 The acquisition of a unique treatment chair for emergency room patients came one step closer recently, thanks to a generous donation from the Selkirk and District Lion's Club.
The Selkirk Regional Health Centre (SRHC) emergency department recently celebrated the donation of $3,000 towards the purchase of a Broda chair, courtesy of the local community service group.
This unique ergonomic chair will provide exceptional comfort for emergency room patients, specifically allowing patients with disabilities to adjust pressure, support and airflow while receiving treatment.
It's the latest in a string of very generous donations the Lions have made to the SRHC over the past few years, including a donation of $131,000 for the new MRI now in place at the facility. Dale Cardale, president of the club, says this donation was specifically earmarked for Selkirk's new hospital as a way to help the community in a very immediate way.
"On the suggestion of the Interlake Eastern Health Foundation, we choose to donate money towards this special recliner chair so that people with disabilities can have better mobility and comfort and also ease for caregivers," he said.
Yvonne Oxer, Clinical Team Manager for the SRHC's emergency department and special care unit said the whole team is looking forward to receiving this new equipment that will be beneficial for patients while helping staff deliver first–rate care.
"With the aging population we are seeing an increasing number of elderly patients being held in the emergency room for extended periods of time," she said. "Having our own Broda chair means we can keep it in the ER and it will be readily accessible when we need it; the ER staff are very appreciative of the Selkirk and District Lion's Club generous donation."
Pamela McCallum, executive director of the Interlake-Eastern Health Foundation, said that this recent donation from the Selkirk and District Lion's Club was an excellent example of how matching donations to high priority items such as this new emergency room equipment, is the most efficient way to maximize the impact of community donations.
"Every facility has a highest priority list," Pamela said. "When donors ask what's needed at a particular facility, we are quickly able to match them with the greatest need. In turn, they are able to see their donation used quickly, which lets them know they've made a big difference,"
The generosity of the Lion's Club is another great example of community giving that has been coordinated through the Interlake-Eastern Health Foundation (IEHF). For more information on this and other examples of our region's incredible generosity, contact Pamela McCallum at pmccallum@ierha.ca or visit the IEHF on Facebook or their website at http://www.iehf.ca/
L-R: Pamela McCallum – Executive Director Interlake-Eastern Health Foundation, Yvonne Oxer – Clinical Team Manager ER/SCU Interlake Eastern Regional Health Authority, Lion Carol Cardale, Lion Ken Johnson (back), Dale Cardale – President Selkirk & District Lions Club, and Kelly Cook – Chair Interlake-Eastern Health Foundation.