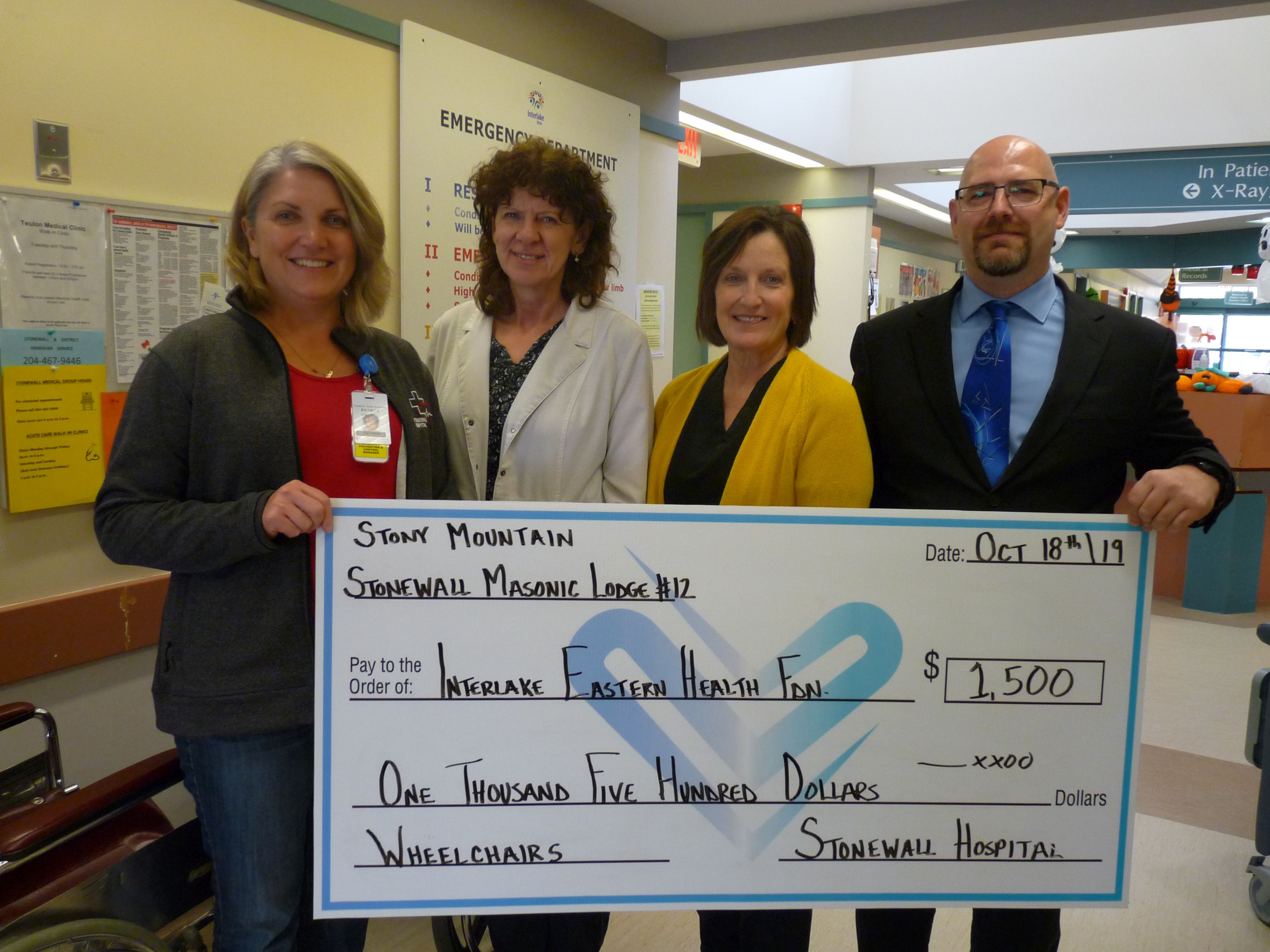 Stony Mountain Stonewall Lodge #12 donates $1,500 for new wheelchairs at Stonewall Hospital!
The members of Stony Mountain Stonewall Lodge #12, a freemasonry lodge, have donated $1,500 to purchase much-needed wheelchairs for the Stonewall Hospital.
Freemasonry is based on the belief that each person has a responsibility to help make the world a better place.  Freemasonry encourages good men to become better men by promoting a life dedicated to high ideals, community service, and benevolence.
Tim Heisler, the master of the Stony Mountain Stonewall Lodge #12 says the lodge has a long history in the area, and the members want to give back to the community.
"We are a small, rural lodge; but a lodge very committed to our community. Funds are raised through our annual quiz night, and football pool tickets. We are pleased to support the local hospital's needs with this donation."
Patrice Lee, Clinical Team Manager says health centre staff are deeply grateful for the support from the community.
"With this generous donation we will proceed with the purchase of transport wheelchairs. These transport wheelchairs will be dedicated to the emergency room and will be used to transport emergency room patients with in the facility.  This may include the registration process or going for diagnostic tests.  This will allow the current wheelchairs to be dedicated for inpatient use."
Interlake Eastern Health Foundation executive director Pamela McCallum, says items were chosen off a highest priority list from the hospital.
"The foundation has a running list of highest priority items for all our facilities and programs so that when a group such as the Stony Mountain Stonewall Lodge #12 comes forward and asks for a list, we are able to get them a list of needs quickly and effectively."
Our mission is to raise funds that support health care in the Interlake-Eastern health region. For more information visit www.iehf.ca or contact Pamela McCallum, executive director of the Interlake-Eastern Health Foundation at (204) 785-7044.
Photo L-R: Patrice Lee Clinical Team Manager Stonewall Hospital, Sharon Rempel RN, Donna Stewart LPN, and Tim Heisler Master of the Stony Mountain Stonewall Lodge #12.