McPherson family extremely grateful for exceptional care of their loved one.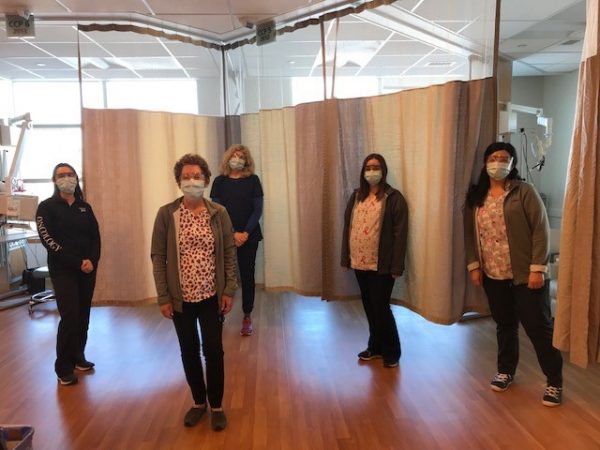 On January 17, 2021, loving wife, mother and grandmother Irma McPherson passed away at Selkirk Regional Health Centre (SRHC). Husband Maurice and daughters Rachel and Melissa credit the wonderful care received at SRHC, especially the CancerCare unit, for Irma's productive and fulfilling final two years. Other than her cancer diagnosis Irma led a very healthy lifestyle. Chemotherapy extended her life and allowed her to do all the things she loved; planting a large garden, walking, picking berries and spending quality time with loved ones.
To acknowledge the care Irma received, the family sent personal cards to staff that showed incredible compassion and empathy to Irma. They also requested donations go to the CancerCare unit, and they provided a gift card to Roxi's by the Red so staff could enjoy lunch.
One of Irma's daughters Melissa says that her family was overwhelmed with the great care her mother received at SRHC.
"The physicians, nurses and SRHC staff not only gave exceptional care to our mom but they cared for our family as well. They showed us compassion and respect, and listened to our wishes during this difficult time. The support and kindness allowed my mom to pass peacefully, with dignity and her family by her side.  We felt that the experience provided at SRHC was unique to a rural facility, where they were able to provide a personal touch and connection."
Audra Nesbitt-Hume, clinical team manager for CancerCare at SRHC says staff from the units have been touched by the kind words and gestures from the McPherson family.
"The staff were grateful for the generosity of Irma's family and told me they are honoured to be able to walk with patients on their journey" says Nesbitt-Hume.
Interlake Eastern Health Foundation executive director, Pamela McCallum, acknowledged the importance of showing gratitude toward staff, especially during these difficult times.
"It was really touching to work with Melissa and the McPherson family on this incredibly nice gesture for our staff" said McCallum. "They have taken a heart-breaking situation and turned it into a heart-warming tribute to Irma. We feel very grateful to have such wonderful, compassionate staff and such generous, kind community members like the McPhersons in our region."
Interlake Eastern Health Foundation's mission is to raise funds that support health care in the Interlake-Eastern RHA. For more information visit www.iehf.ca or contact Pamela McCallum, executive director of the Interlake Eastern Health Foundation at (204) 785-7044.
Photo: L-R: Ashley Catellier – RN, Deb Boyko – RN, Michelle Eramchuk – RN, Sarah Smith – RN, and Lisa Sine – Clerk.