Little Elska provides comfort to campers at Camp Stepping Stones!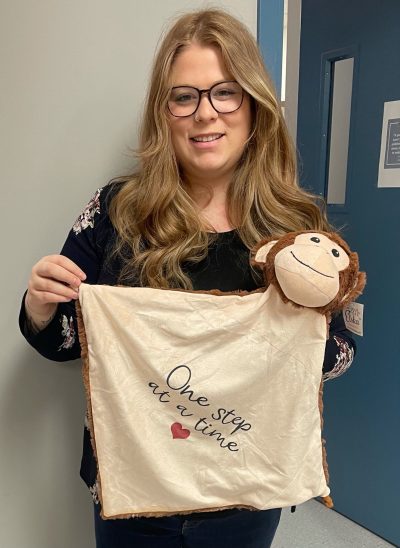 Every year, Camp Stepping Stones, Interlake-Eastern Regional health Authority's children's grief camp, provides youth who recently experienced the death of someone significant in their lives a safe environment led by compassionate volunteers, to explore their feelings of grief. Because of the pandemic, the camp has moved online this year to keep campers, staff and volunteers safe and physically distanced. For the third year in a row, we celebrate Little Elska, an Arborg-based business for donating security blankets for all the campers!
Little Elska is owned and operated by Jackie Horvat out of Arborg, Manitoba. Her business specializes in hand-made products such as personalized blankets, backpacks, stuffed animals and a wide assortment of items that can be customized for each customer in a special way, such as with a child's name or birth-date.
"It's so important for us to continue our yearly donation to Camp Stepping Stones, even during a pandemic. This camp is so important to those who attend, we are just thankful to be part of it" says Jackie.
Camp Stepping Stone's volunteer liaison, Amanda Morrison says even though camp will be virtual this year, Little Elska still found a way to give the campers a special gift in their camp packages.
"The security blankets Little Elska donated will help to comfort the campers at home. This gift will also give them something to cherish and remember this year's camp. We are so thankful for Jackie at Little Elska, her generosity and her kindness," says Morrison.
Pamela McCallum, executive director of the Interlake Eastern Health Foundation says the donation is another great example of community giving coordinated through the Interlake Eastern Health Foundation (IEHF).
"We are so lucky to have caring and generous people like Jackie in our region," said McCallum. "For three years, without hesitation she has supported the kids at camp by donating her amazing bears and blankets, giving the kids a sense of security and care while going through a difficult time. We cannot thank Jackie enough."
To find out more about Little Elska and their amazing products visit www.littleelska.com. To learn more about Camp Stepping Stones visit www.is.gd/steppingstone.
For more information on IEHF and how it benefits the region's residents, follow us on Facebook, visit www.iehf.ca or contact Pamela McCallum directly at pmccallum@ierha.ca.
Photo: Amanda Morrison, Camp Stepping Stone's volunteer coordinator, shows off security blankets generously donated to all campers by Little Elska.