Selkirk & District Community Foundation funds specialized training for Palliative Care support staff through palliative care grant!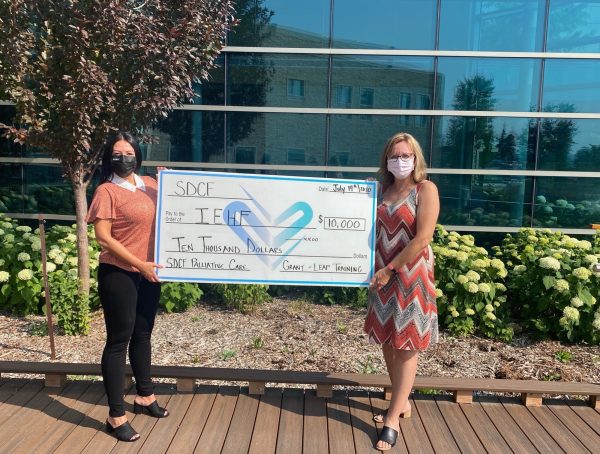 With a grant received from the Selkirk and District Community Foundation, the region will be able to train and educate 222 health care aids and support workers in Selkirk (and surrounding area) home care, long term care, and acute care programs. Pallium announced its new Learning Essential Approaches to Palliative Care (LEAP) Personal Support Worker Training that provides personal support workers and health care aides with the essential competencies to provide a palliative care approach. This course is specifically focused on the scope of practice for these health care providers and includes practical skills on the provision of care and communication as a part of the care team.
Pallium is a Canadian, non-profit organization focused on building professional and community capacity to help improve the quality and accessibility of palliative care in Canada. They are a community of clinicians, educators, and researchers working together to accelerate the integration of palliative care in Canadian communities and health care systems.
Christine Skakum, palliative care nurse who provides care to clients on the west side of the region says this grant will directly benefit all of the region's community members.
"The knowledge of how to approach conversation, provide physical care and support to family members is crucial. LEAP Training will empower the IERHA health care aids and support workers to provide best practice supportive care to clients and families in our region. This is an exciting opportunity to increase their confidence and explore this beautifully complex and relational area of care," says Skakum.
Interlake Eastern Health Foundation executive director, Pamela McCallum, acknowledged the importance of supporting training and education programs which are often overlooked.
"Training and education programs help improve the knowledge and skillsets of employees to match the ever-changing health care system. These improvements will positively affect the productivity of staff, which will increase efficiency of our organization and staff engagement."
Selkirk and District Community Foundation (SDCF) executive director Beverly Clegg says "The SDCF Palliative Care Fund was created and continues to be supported by caring and compassionate community volunteers and donors. Here at SDCF we know, because of those donors, palliative care supports can and will be provided locally today and forever."
Our mission is to raise funds that support health care in the Interlake-Eastern health region. For more information visit www.iehf.ca  or contact Pamela McCallum, executive director of the Interlake Eastern Health Foundation at (204) 785-7044. For information on the SDCF please visit www.sdcf.ca.
Photo L-R:  Pamela McCallum, Interlake Eastern Health Foundation executive director and Beverly Clegg, Selkirk and District Community Foundation executive director.