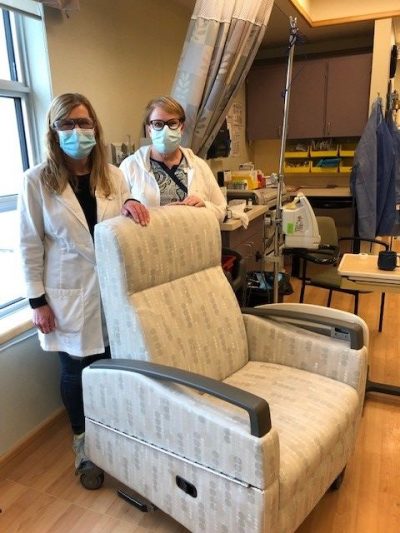 In recognition for amazing service, former patient purchases treatment chair for Gimli Cancer Care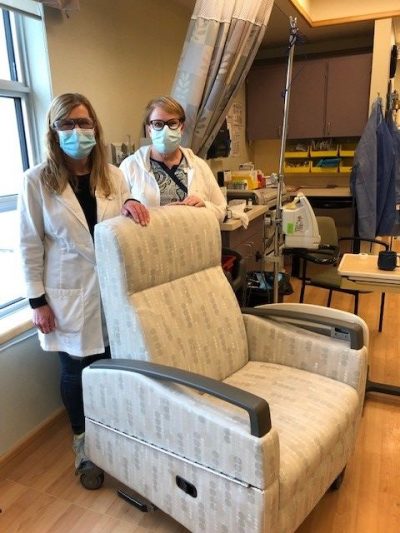 Wendy McConnell a patient who received treatment at the Cancer Care Unit inside the Gimli Health Centre for 4.5 years reached out to the foundation in June 2021 with the intention of purchasing a new treatment chair for the unit as a thank you for amazing service. Sadly, on July 5th 2021, Wendy passed away.
Wendy's husband Dave wanted to honour her commitment to the Cancer Care Unit so he worked with the foundation to get the donation together and the chair ordered in her memory.
Cancer Care staff in Gimli Julie Kumps, Donna Wishnowski, Amanda Stroucken, and Samantha Giesbrecht collectively said that the new chair is a beautiful reminder of a very special patient.
"Receiving this chair is a beautiful reminder of a very special patient.  It never mattered how she was feeling, this lovely lady always took an interest in everyone else around her – from the staff, the pharmacist and the other patients around her.  This chair provides a comfortable spot for someone to help them get through a difficult time in their life" said the staff.
Pamela McCallum, executive director of the Interlake Eastern Health Foundation worked with Wendy from the beginning on this thoughtful gift.
"Although I never met Wendy in person, I was lucky enough to work with her on establishing this donation for the Cancer Care program in Gimli. It saddens me to know that she wasn't able to see this gift through, but I take comfort in the fact that we were able to complete the vision in her honour." says McCallum.
For more information on IEHF and how it benefits the region's patients and residents or to make a donation, please visit www.iehf.ca or contact Pamela McCallum directly at pmccallum@ierha.ca.
Photo: Nurses Julie Kumps and Donna Wishnowski.