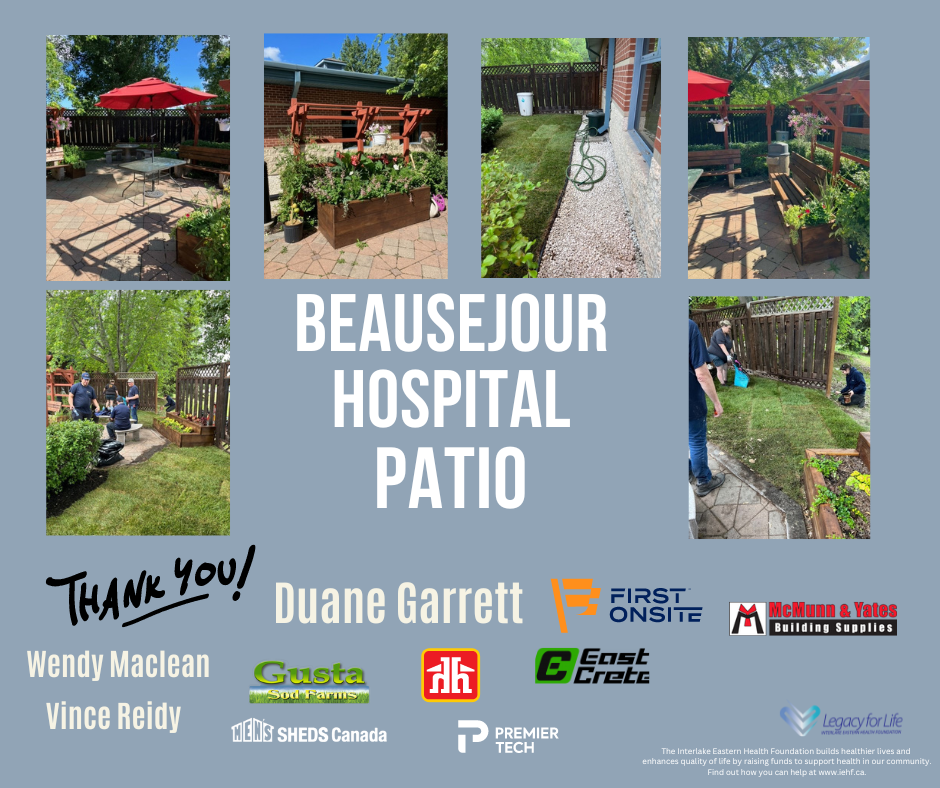 Thankful Tuesday – Community supports Beausejour Hospital Patio!
Sprucing up and making the patio at Beausejour Hospital more accessible felt like the right way for the family of a recent patient to remember and honour him.
"My dad was an outdoor guy, and when in hospital, we could see how badly he wanted to be outside," says his son. "When he got sick, he wanted to stay in Beausejour. He was comfortable there, liked the hospital and its staff, and didn't want to go to a large hospital in the city if he could avoid it."
"Dad was there for about a week and when he passed, we knew we wanted to do something to give back. The staff were all great and some went above and beyond for us. They really understood what we were going through, making a difficult time a little easier. They know who they are, and we're really grateful for them. We wanted to do something that would honor our dad and perhaps make hospital stays a little easier for other patients and their families."
The family shared their idea with family friend Duane Garrett, and what happened next shows the power of community. Working with hospital staff, volunteers, and local businesses Duane led a complete overhaul of the hospital patio space.
Duane's first call was to his employer First on Site Restoration who embraced the project. They supplied the manpower, closing the office for the day and paying staff. The rest of time was all volunteered, at one point there were 19 people working in the space.
The generosity didn't stop there says Duane. "I asked, and they said yes, everything was donated."
McMunn and Yates provided all the materials to repair the fences and benches; Gusta Sod Farms provided sod; Home Hardware provided stain; East Crete provided fresh gravel; and Premier Tech supplied soil and mulch. The patio was transformed and the result is a beautiful, peaceful spot for patients and families to spend time outdoors.
Longtime hospital volunteer Wendy Maclean was a big part of creating the garden areas a couple of years ago. She did a lot of research on the healing powers of gardens for patients and looked into plants that would be suitable for the area. Vince Reidy and the local Men's Shed group built the planters with materials paid for from donations to the Interlake Eastern Health Foundation (IEHF).
The hospital staff and patients enjoyed watching the work in progress and continue to enjoy the space. "The space is much more accessible since the upgrade, patients in wheelchairs have a much easier time coming out on the patio, many are finding purpose during their stay with helping pull weeds or water plants, and they can't wait for the tomatoes to ripen!" says Amber Reichert, clinical team manager at Beausejour Hospital.
The family want to remember their dad by having his sayings etched into the patio benches. "Dad was a private guy but he was known for having a saying for every occasion. Knowing that others will enjoy this outdoor space, and maybe have a laugh from one of his sayings, is a great way for us to honour and remember him. We are grateful to the community for supporting this project and especially to Duane for making it happen. He truly did it all."
"This is such a heartwarming example of what our community is all about – we take care of and support each other." Says Averill Stephenson, executive director of the Interlake Eastern Health Foundation. "We are so grateful for everyone that had a hand in making this happen and to the family for sharing this story. This beautiful space will enhance the health and wellbeing of everyone who uses it."
Do you want to find out more about how you can support healthcare in your community? Contact the IEFH at iehf@ierha.ca or visit www.iehf.ca.